The Precision Motive Story
Precision Motive was officially founded on January 21st 1977, by Pat Hendrix and his wife, Sue. Before that, Pat had been running the operation out of his garage. Eventually they saved enough money to start their own business!
Of course, like most entrepreneurs, during the first couple years they had some rough times. But if you know Pat, then you know a good businessman, a good mechanic, and a great person to work with.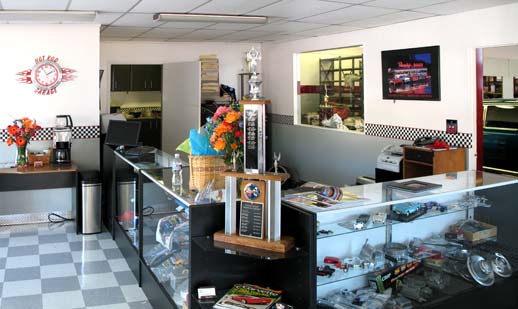 Yesterday and Today
Pat grew up with a passion for cars, from building his own mini-bike and go-carts, to building and driving his own cars. During his early mechanical years, Pat attended night classes at San Jose City College, entering a 4-year program. But because of Pat's knowledge of cars, after two years of classes, the college awarded him his journeymanship. He then went to work at Carter Industries, Inc., a motor vehicle parts & accessories manufacturer in Union City, California. While working at Carter, Pat also worked on friends' and relatives' cars in his garage at home. He realized during that time that his dream was to start his own automotive repair business. Pat & Sue decided to start that dream in 1977, and on January 21, Precision Motive was established.
Since then Pat has made Precision Motive a specialty shop for Corvettes, muscle cars, and hot rods. Recently, the business has been expanded to include most makes and models and fleet accounts. Precision Motive's customers are pleased to know that the shop that services their hot rods, muscle cars, and classics, now also offers their everyday drivers the same quality service.
Quality Service
Precision Motive has built a reputation for being honest, and giving our customers the quality product they deserve. Rule #1, is that you can't build a reputation on what you are going to do. We believe that in order to have a business survive and prosper, you need to serve your customers with the best service there is, the lowest price possible, and always with an honest warm smile. We believe that if we charged our customers less, we would have to buy parts that were lower quality and would break easier and sooner, and we just won't do that.
The best wines, chocolates, jewelry, and quality products in the world, are going to cost a little more than the rest. But it is worth it because they are the best. That's what Precision Motive is all about: delivering honest, quality service. Since a business can't exist without its customers, we try our hardest to treat them with the utmost respect, and of course, a smile!
Family owned and operated by Pat, Sue, and Jaime
There are a few rules that the employees of Precision Motive follow:
Winners never quit, and quitters never win.
Success is a journey, not a destiny.
Real leaders are ordinary people, with extraordinary determination.
But the most important rule of all that we follow:
Every job is a self-portrait of the person who did It;
Autograph your work with excellence.

Call us at 510-886-0789, or
visit us at our Hayward, California location to discuss your needs.
We look forward to serving you!
Corvette History >


1953-1962